The Colonial Little Theatre, in Johnstown, is thrilled to announce it's reopening and our upcoming 84th season!
We want to take a moment, though, to sincerely thank everyone who has supported us through donations, volunteer work, and attending/supporting fundraisers during this year+ long hiatus.
The theatre has gone through some pretty amazing renovations over the past year and we look forward to welcoming you into the building again soon!
Our Upcoming Season Includes:
Coming to CLT in April and May, 2023!
The Addams Family

April 28th-30th
May 4th-7th
Thursdays, Fridays & Saturdays at 7 pm
Sundays at 2 pm
TICKETS $15
Book by Marshal Brickman and Rick Elice. Music and Lyrics by Andrew Lippa. Based on Characters Created by Charles Addams.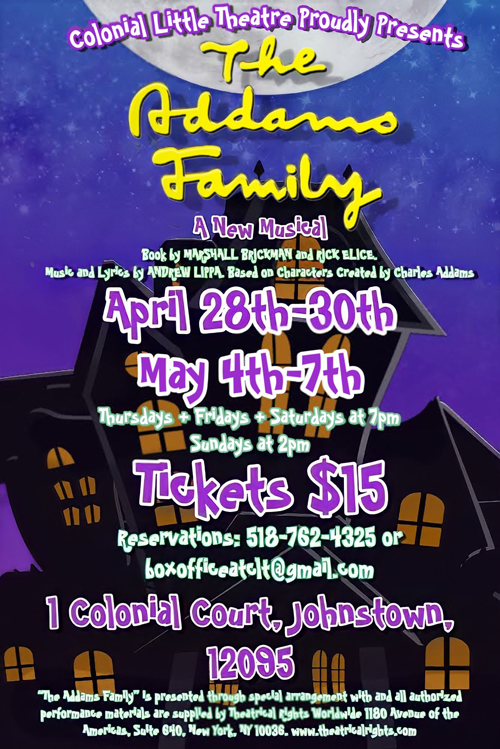 The Addams Family Auditions
Download PDF of Schedule & Important Information
Dates:
Feb. 23rd & 24th, 2023
(*Snow date: February 25th at 7 PM)
Time:
7 PM
Place:
Colonial Little Theatre
1 Colonial Court
Johnstown, NY
Auditions are open to all performers ages 14+
If you are unable to attend in-person auditions, but would still like to audition, video submissions are acceptable! 
Please email the director lillian.nevinz@gmail.com for further inquiry.
Performance Dates: 
April 28th, 29th, and 30th, as well as May 4th, 5th, 6th and 7th.
**Must be available for all performances**
What to prepare:
Please prepare a 1 minute cut of an audition song (theatre or non-theatre) in the style of the show. 
** please come with an accompaniment/karaoke track of your song selection.  
**Music will be played, through your phone, via Bluetooth speaker or adapter. 
Please come in clothes that you are comfortable moving in!
Be prepared to list any potential conflicts between February-May
A rehearsal schedule will be decided on based upon the availability of all cast members.
If you have any questions, please feel free to email the director at lillian.nevinz@gmail.com
Thank you!