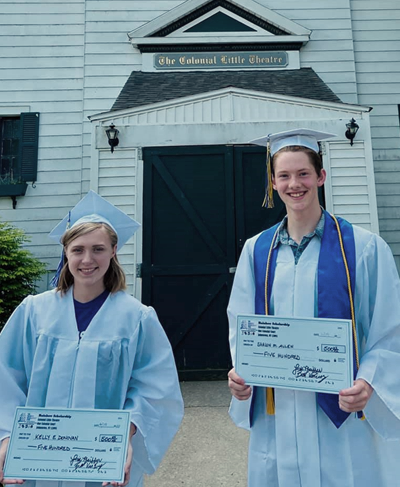 The Colonial Little Theatre Inc. proudly announces the Rainbow Scholarship award recipients for 2020.
The Rainbow Scholarship was developed to honor the memory of Justin "Pacifica Rim" DeMaria. It sets out to assist local LGBTQ+ graduating seniors, who are pursuing continued involvement in the arts.
Through community support and donations, The Colonial Little Theatre was able to award two $500 scholarships.
Kelly E. Donovan of Northville, and Shawn M. Allen of Mayfield, both earned the awards for the class of 2020. Their application and personal, heartfelt written essays embodied the legacy this scholarship strives for. We are so very proud of them, their pride in the LGBTQ+ community, and their dedication to the arts.
It is The Colonial Little Theatre's honor and privilege, to be able to assist local seniors in pursuing their dreams after high school.
If you, as a community member, helped by organizing fund raising events, collected donations through your business, or made a donation yourself, we thank you for helping to make this possible.
If you would like to make a donation to The Colonial Little Theatre's Rainbow Scholarship Fund, as we continue to assist local graduates for many years to come, you may send a check to:
The Colonial Little Theatre
P.O. Box 283
Johnstown, NY 12095